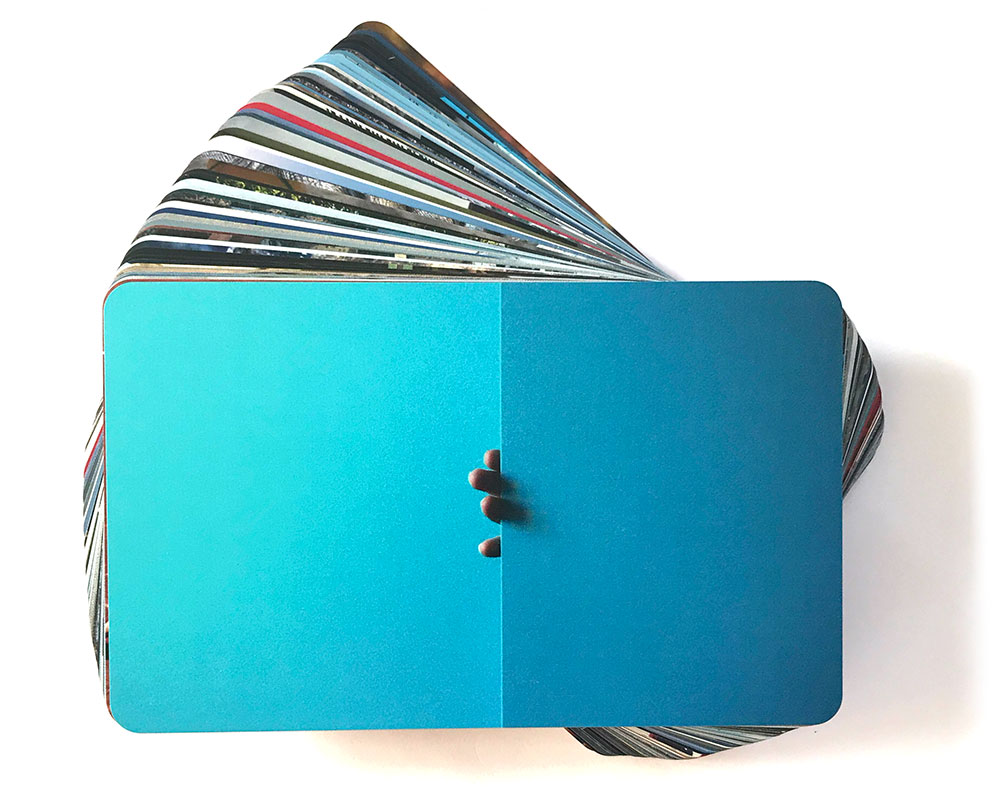 What is it, who is it for ???
This deck is named "Mes Mots Sont des Images"in french, meaning "My Words are Pictures".
It's a deck of photo cards used in group workshops or individual guidance. It's usefull to any:
facilitator,
creativity professional,
individual or team coach,
psychotherapist,
…
What would I use it for ?
Those 72 original photographs can trigger all kinds of thoughts, memories, ideas & emotions. They are used as metaphors, chosen by group participants or by the facilitator or coach.
I often use them as an icebreaker or in inclusion sequences to open up the session subject (eg. "choose a picture to illustrate how you feel regarding the project we're going to work on, today; then you'll present the card you've chosen and you may share why you chose it, if you feel like it"). It can also be used in ideation activities (eg. constraints cards) or for individual guidance.
The metaphors chosen and / or triggered by the photos allow participants to express what may seem unspeakable at first, to follow a thread in their own reflections and, very often, to discover what they didn't knew they knew.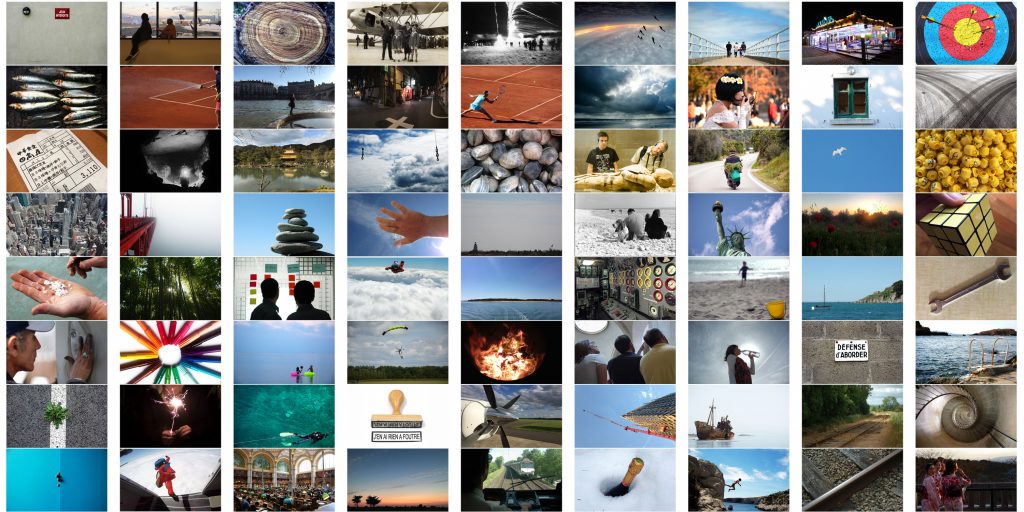 Tell me more!
I've been using such cards for a few years, printing on standard paper images I would find in online images banks; reprinting them on a regular basis.
Then I've been wanting to work with a quality deck.
I needed a nice to handle, nice to touch and resistant deck with a professional look and feel. This deck is also more compact than my home made prototypes, it can easily fit in my backpack.
Designing this deck was also a nice occasion to have my facilitation and photography activities collide. I've been shooting picture for more than 30 years now, studied photography.
With this deck, no more randomly internet picked images. They're all mine: 68 shot by, 3 grabbed from team mates GoPro, and one is a family treasure.
Many where shot on purpose for the deck.
The cards are printed in large tarot size (89mm × 146mm), plastic coated, soft and resistant, shipped with their box.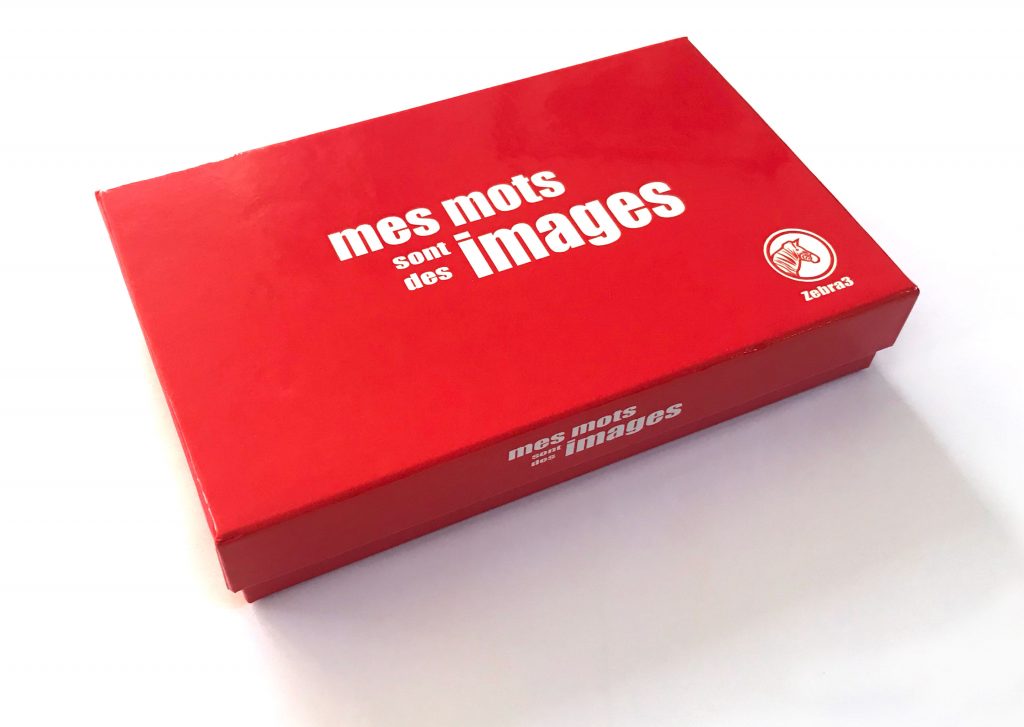 The deck itself has two subsets (recognizable by a special mark) to offer a "quick to draw" essential cards set (eg. for a small group).
Interested ?
Each deck is priced 55€ excl. VAT & shipping. If you stay in Paris, we may schedule a meeting.
Now you know all what there is to know about My Words are Images.
You have an idea of how you will use it, you can see the pictures composing it and the idea of ordering it is knocking at the door, you just have to open it.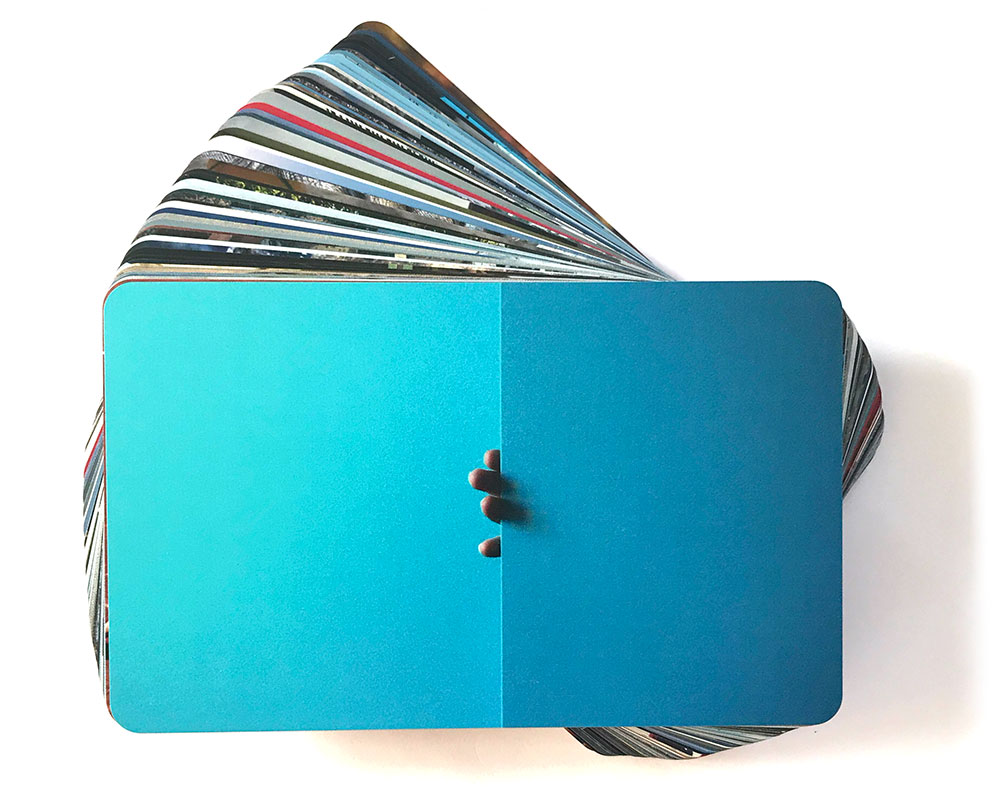 Ordering it is like opening this door and starting a journey where you will meet those pictures and discover the pleasure to play with them and the metaphors they can convey.
Order your deck